As resource development and human populations increase In British Columbia, pressures on all resources and services have accelerated. Rapid growth has often overwhelmed the ability of local planners to manage land and preserve sensitive habitats. This has resulted in loss or degradation of habitats that once supported fisheries and wildlife. Sensitive ecosystems and critical habitats are becoming increasingly threatened.
There is an urgent need for better methods to conserve and protect these habitats. The Sensitive Habitat Inventory and Mapping (SHIM) Atlas represents a response to this need. The SHIM Atlas is a land-planning, interactive GIS tool that identifies sensitive aquatic and terrestrial habitats.   The Atlas is intended to provide community stewardship groups, individuals, regional districts and municipalities with an effective low cost delivery system for information on these local habitats and associated land uses. The awareness and commitment to local resources is an important process created through cooperation of local communities, First Nations, municipalities, planners, and managers. SHIM mapping and data systems developed to date reflect the use and interests of many of these agencies and community groups.
Lower Fraser Streams Update 2020/21

An accurate map of watercourses across jurisdiction boundaries in the Fraser Valley is critical for many activities including ditch maintenance, water quality issues and application of the BC Riparian Area Regulations. Detailed watercourse mapping is needed to prioritize fish habitat restoration projects for impacted habitat by decades of cumulative effects from human activities and to prioritize intact habitat for protection and conservation. This recent update is the most comprehensive compilation of watercourse mapping CMN has completed since first mapping small Fraser Valley streams in 2002. Mapping of the smallest of streams throughout the lower Fraser River Valley is needed to show the incremental loss of fish habitats. 
Many small watercourses have been lost or impacted by land use and development. This short video "
LOST STREAMS
" illustrates this an on going problem.
This two year project to update the Lower Fraser Streams was funded by the Environmental Damages Fund, administered by Environment Canada and Climate Change. The Community Mapping Network worked with the BC Conservation Foundation and the Fraser Valley Regional District to complete this update of all the small first order streams for the Lower Fraser River, Hope to the estuary.

The red & yellow stream network on the SHIM Atlas shows the extent of the Lower Fraser Streams Update, viewed by zooming into the Fraser Valley and turning the layer groups shown in this screen image.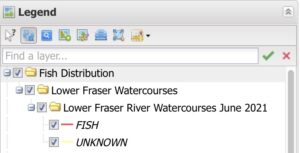 CMN used the BC Government documented Fish Observations data to mark streams with FISH along with local government "fish present" attributes to identify the RED FISH PRESENT streams. We also used LiDAR visually in some cases to help verify the location of a questionable watercourse which helped to prioritize areas where the field crew would visit. Field observations were limited to confirming stream location, flows and possibly fish observations using the ESRI Collector app. To view the attributes for any Updated Stream use the "Selection" tool (upper left in the SHIM map frame) and click/select a stream line. The attributes are displayed in a "Map Selection Window" (lower left).
An example of how these data are used is the "BC Agriculture Water Calculator", developed by the "Partnership for Water Sustainability in BC", linked here bcwatercalculator.ca/agriculture/welcome
The Streams Update data layer in the Water Calculator is provided by CMN as a Web Mapping Service (WMS) along with a second layer group for southern Vancouver Island based on SHIM methods. Many streams in both the Fraser Valley and the southern Vancouver Island were visited by field crews.
The SHIM Methods & Standards, widely used by local governments in BC since 2002, have been the basis for 1:5,000 fish habitat inventory. SHIM methods were designed to use with a Trimble survey grade GPS to provide stream center line accuracy. But now that mobile devices (with GPS) are everywhere it is time for a SHIMobile version focused on the most frequently mapped point features. Check out the "Atlas Update & News" section below for announcements about this new feature.
The primary functions of the SHIM Atlas are:
– identify sensitive habitats and resources within local communities;
– integrate property boundaries, and road networks with locations of sensitive resources to facilitate official community plans and development permit applications;
– work within an interactive Geographical Information System (GIS) to provide useful map products for analysis and effective communication;
– facilitate updating and exchange of information;
– establish partnerships with provincial and municipal governments, stakeholders, and the public to protect and manage fish habitat.
By combining resource information from a variety of sources the SHIM Atlas can provide a strong foundation for improving integrated resource management and planning in urban and rural areas. This video shows how SHIM observations are made in the field http://www.youtube.com/watch?v=Xmov6BBm4Gg
Wild, Threatened and Endangered Streams
The watersheds in the Lower Fraser Valley have been subjected to intense urban and rural development pressures for many decades. The great majority of pre-settlement streams in the Vancouver area have been buried or culverted, and many are effectively lost. Most of the remaining streams in the Lower Fraser Valley have been altered in one or more ways, including channelization, diversion, removal or alteration of riparian vegetation, and by pollution. To learn more form DFO publications 1997 to 1999 see the three related links in the Atlas Documents section below.